Single Track – Full Day MTB
Riding in the Sacred Valley more often than not means riding on old Inca Trails and lots of Inca Stairs. Get on Peru Biking Mountain Bike Tours!Rough and Rowdy are the Trails of the Sacred Valley. We will choose what ride you do depending on skill level and trail conditions. If you are interested in any particular one let us know. 1 person: $260 USD** 2 People+: $180 pp ** Solo travelers can book a ride for $ 260 and if another rider books we will refund you the amount owed DEPENDING ON amount of riders. Includes: Mountain Bike, English Speaking Guide, Private Transport, Biking Gear, Lunch, Snacks and the Best Story of your life!  
INCA AVALANCHE
This route follows the famous Inca Avalanche race course, which every April is the scene of a mad crowd of over 200 mountain bikers rampaging down the mountain in pursuit of victory. More of a downhill trail it has a great mix of everything and will leave you with a permanent grin for weeks afterwards. 
Distance: 8.88 miles/14.3 Km
Max. Elevation: 14135 ft./4,308m.
Elevation descent: 4970 ft./ 1514m.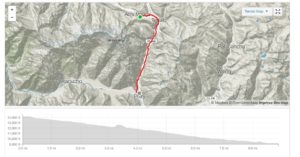 PATACANCHA
The scene of one of the highest Enduro bike rides in the world, this is one that will test your lungs and leave you loving the high alpine riding where you can choose your own free ride lines. A long, epic mountain bike trail this classic Enduro ride is located outside of Ollantaytambo in the Sacred Valley.
Distance: 17.3 miles/27.9 Km
Max. Elevation: 14552 ft./4,435m
Elevation descent: 5089 ft./ 1551m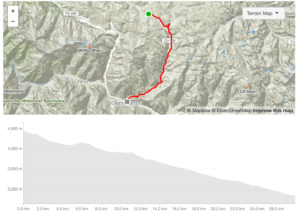 LARES
Lares is a fluid single track with a mixture of rocks, packed dirt, rock gardens, grass, small steps and some Inca stairs. Intermediate riders will find the trail fun and challenging. Pros will find it fast with natural jumps and hits.  We will pass by Inca ruins throughout and ride to the final trail section down to Calca. Lares prevails as a local favorite due to the combination of fluidity and technical zones. 
Distance: 11.24 miles/18.1 Km
Max. Elevation: 13847 ft./4,220m.
Elevation descent: 4206 ft./ 1282m.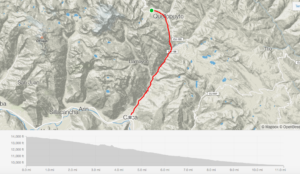 LAMAY
 Oh,…Let me explain Lamay. We take a tight valley to a remote area, it is fast and fluid with countryside wild dogs and gnarly dynamic Inca stairs. The trail flows into narrow spots on the edge of the earth followed by rock drops. This is a long trail with stellar views and plenty-a-shred!
Distance: 8.5 miles/13.7 Km
Max. Elevation: 13744 ft./4,189m.
Elevation descent: 4068 ft./ 1239m.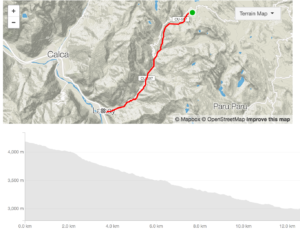 HUCHUY QOSQO
Huchuy Qosqo: For those who want to add in some climbing on the ride, after reaching the pass you descend Inca trail passing through Inca ruins and riding some gnarly stair sections, eventually the trail kicks you out across the river from the town of Calca. 
Distance: 13.1 miles/21.2 km
Max Elevation: 14163 ft/4317m
Elevation Descent: 4555ft/1388m