Single Track – 1/2 Day MTB
If you only have a half day for biking we recommend a Cusco half day mountain bike ride. The day consists of 3-4 hours of riding and shuttling local Cusco trails. The trails are fun and fast and you will see other local Cusco riders showing off their skills. If you have a full day check out South Valley and Sacred Valley for an epic full day of riding. Some of the possible 1/2 day rides are:
HUAYARCOCHA
YUNCAYPATA
OCCOPATA
SALKANTAY PUEBLO
Price of Trip:
1 person: $180**
2+ People: $150 pp
Includes: Mountain Bike Rental, English Speaking Guide, Private Transport, MTB Gear, and the Best Story of your life!
Not Included: Snacks, Lunch, and Water
Huayarcocha
A quick shred on this trail is perfect to get started and gain your confidence while doing the Cusco Half Day Mountain Bike Ride. We generally start with this trail on our half day biking tour. With loads of wide open sections, you can pick where you want to ride. You will get warmed up with a short rocky section and some small jumps followed by tight single track on the edge of the mountain and a steep end to the trail before the last part, urban downhill. Here you get a taste for South America urban rides with dogs and stairs.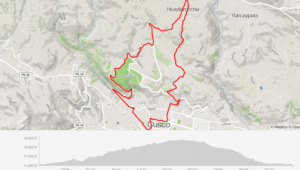 Yuncaypata
This sweet track has a bit of everything. It starts off loose with rocky steps and opens up with some small jumps. Ride though a small Andean pueblo before you hit some more small jumps. Now come some steeps after a small eucalyptus forest and on to a section with some bigger gap jumps. Hit some tight curves before you come out into Cusco and shuttle back up for the next ride.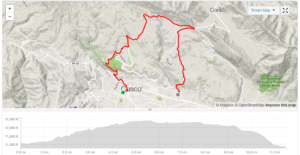 Occopata
Occopata is a fluid single track made up of a stable rock mixed with stairs, perfect for our half day rides. We can pedal from the house to the top and descend back down to Cusco or go up with transport and ride it a few times. Occopata is a wide rocky trail with a lot of options to choose your line. Short and sweet take advantage of Cusco Peru Mountain Biking.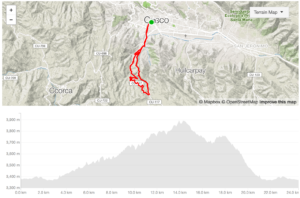 Salkantay Pueblo
Not to be confused with Salkantay Mountain, this sweet dynamic trail can be done in combination with a few other trails on the Cusco Half Day Mountain Bike Ride. It starts in a small Andean pueblo known as…you guessed it, Salkantay Pueblo. Lots of rock and technical areas where you can clip your pedal, stay on top of your game! You come down though a small forest and end one block from the Plaza de Armas in Cusco. You will get some steeps, some loose rock, some crazy rock stairs and some gnar. The dogs will keep you from looking back and the trail will have you out of the seat and on your toes.